Quotes of Titanium Dioxide from Italy and Egypt 
As we are qualified manufacturer for Titanium Dioxide and we always devotes to green environmental protection, recently we got some quotes from Italy and Egypt clients. Below is the details:

1. Dear Sir/Madam, We have a new request from one of our big client in Italy. Can you please check if you can quote on following item?
-Product : Titanium Dioxide(CAS No.1317-80-2)
-Quantity : 160Tons/every month(app.2000tons per year)
-Use : calandered PVC films
-Delivery period : how long it will be take to Italy?
-Price based on CIF, Genova Port(ITALY)
-Packing : 1 ton bulk bag (FCL) on pallet **
Please send product CoA as well Looking forward to hearing from you.

2. Hello Sir/Madam... We kindly request to purchase the product below
TITANIUM DIOXIDE.. Order Quantity 2 X 20ft FCLs..
3. I'm planning to establish titanium dioxide pigment plant in Egypt
Depends on large production of ilmenite and rutile in Egypt
Are you interested in supplying and installing of Plant Equipments to my Company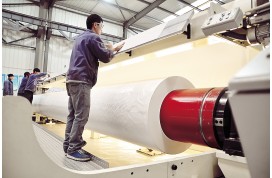 Founded in 1988, Foshan Xintu Chemical Co.,Ltd is the most professional titanium dioxide manufacturer who can have an annual output capacity of coatings over 100,000 Tons then to meet the market demand at a reasonable price. We invest reasonable funds on R & D and equipment. We pay attention to the cultivation and promotion of talents to ensure constant improvement and win good reputation as the most reliable titanium dioxide manufacturer.