The factors of improving gloss of precipitated barium sulfate 
The gloss of coating refers to the reflection ability of the surface to the projected light. The stronger the reflection ability, the greater the gloss. The main factors affecting the gloss of barium sulfate powder after film formation are its particle size and dispersion performance. If the particle size of the barium sulfate powder itself is very fine and can be evenly dispersed into the coating, the coating film will be smooth, the gloss will be very obvious; on the contrary, the particle size of barium sulfate is too thick and the uniformity is poor, the coating surface is rough, the gloss will be reduced and the color tone will be dark.
Gloss is an important performance index of ink, and it has a great influence on the appearance quality of printed parts. The traditional precipitated barium sulfate not only has poor dispersibility, but also has low gloss, which cannot be applied to the ink formulation system. Better barium sulfate is actually added to the ink formulation in the form of a concentrated slurry. In ink production, different types of ink products have different quality requirements for barium sulfate materials. In addition, in the ink preparation process, barium sulfate with different properties should be selected according to the specific characteristics and requirements of various inks.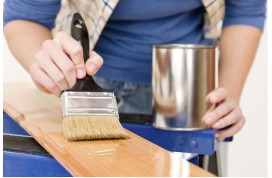 Founded in 1988, Foshan Xintu Chemical Co.,Ltd is the most professional barium sulfate supplier who can have an annual output capacity of coatings over 100,000 Tons then to meet the market demand at a reasonable price. We invest reasonable funds on R & D and equipment. We pay attention to the cultivation and promotion of talents to ensure constant improvement and win good reputation as the most reliable barium sulfate supplier. You are welcome to contact us!