What color is the barium sulfate precipitate?
Precipitated barium sulfate is a compound resulting from the reaction between barium chloride and sodium sulfate. This chemical reaction leads to the formation of a solid precipitate known as barium sulfate.
Color Palette of Barium Sulfate Precipitate
Snow White Elegance: The most common color associated with barium sulfate precipitates is a brilliant white. When the reaction occurs, the barium sulfate particles are finely dispersed throughout the solution, giving it a milky appearance. This pristine white precipitate is reminiscent of freshly fallen snow.
Pearly Shades: As the reaction progresses and the barium sulfate particles grow larger, the precipitate can exhibit a pearly or iridescent appearance. These shimmering shades arise from the interference and diffraction of light as it interacts with the intricate structures of the precipitated particles.
Tantalizing Tinges: Sometimes, the precipitated barium sulfate can surprise us with unexpected colors. Under specific conditions and in the presence of impurities, the precipitate may take on hues such as pale yellow, light pink, or even a subtle blue. These delightful tinges add a touch of whimsy to the world of chemical reactions.
Impurities and their Influence: The presence of impurities can significantly impact the color of the precipitated barium sulfate. For instance, if there are traces of copper ions present, the precipitate can acquire a faint greenish hue. Similarly, organic compounds may introduce a yellowish or brownish tint.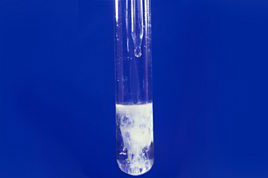 Factors Affecting Color Formation
The intriguing variety of colors observed in precipitated barium sulfate stems from several factors:
Particle Size: The size of the barium sulfate particles affects how light interacts with them. Smaller particles may scatter light more efficiently, resulting in a brighter white appearance, while larger particles may exhibit a pearly or iridescent sheen.
Purity of Reactants: The purity of the barium chloride and sodium sulfate used in the reaction plays a crucial role. Impurities can introduce subtle color variations in the precipitate, offering a broad spectrum of possibilities.
Reaction Conditions: Temperature, pH level, and the presence of other chemicals influence the outcome of the reaction. Altering these parameters can lead to diverse colors in the precipitated barium sulfate.